Q: If California seceded, what would California do for a military?
The short answer goes… California would spend 1% to 2% of our GDP on defense, like Canada or Mexico does. That's instead of the 10%  America does now, but before I go into the numbers, I need to state the obvious differences for a moment.
Talking Point: "Californians have no reason to live in fear. The world hates America not California!"
California has no U.S. style imperial ambitions and is generally liked and respected globally so a new nation of California has no natural or built-in enemies. Unless you count Texas. A Nation of California would most likely be a peaceful and neutral country. Which is a practical political stance for an instant G8 member nation looking to trade globally.
Silicon Valley. And unlike the USA, California could also negotiate prices and shop globally on state-of-the-art military hardware, like most other nations do, that state of the art part is pretty likely too. As far as military spending costs go… at 1 to 2% of GDP, depending on what Californian's vote for as necessary, California would be spending between about $25 to $50 billion annually on our California Defense Forces. That's around $25 billion dollars at 1% of California's GDP compared to Canada or Mexico's $7 to $10 billion, so even a small California military would be stronger than both of them combined. and if Californians chose, at 2% of GDP or around $50 billion, that would put California's Defense Force at the same basic spending levels as England, Japan, Germany, and Russia. All of which are considered global powers. But the good news here, is that either way this would still be a big tax savings for Californians.
Geographically speaking, California is nowhere near the worlds global hotspots. The United States, Mexico, and Canada will be our nearest international neighbors and we're all likely to remain trading partners. And with Asian and Latin American goods coming through California ports and California goods sold worldwide, Economic interests are more likely to be the international focus for California than military concerns. But with that in mind, nobody denies that building a California defense force will not be a big job, but maybe not as difficult as many people may think.
There's are obvious moves to make the job of creating a California military easier. There are large numbers of Californians currently serving as 13% of the US military who would at the time Independence was declared find themselves serving in a now foreign military and should be incentivized through appeals to patriotism, promotion, pay, and homeland service, to voluntarily transfer to California's military. Or at least consider enlistment in California's defense force after their US military tour is over if they so desire.
For California, the simple truth is that if any reasonable number of these US military veterans accept this transfer it would obviously help in rapidly forming a core of experienced California military personnel in a very short period of time. Now, California does have a number of active US military bases that the US will likely want to maintain through negotiated treaty just like they do in other countries all around the world. But California also has a few major decommissioned US military bases that could be re-tasked for California's new defense forces.
Also, Considering California is the home of defense related companies like Northrop/Grumman, Raytheon, and Lockheed Martin…. and the major computer companies in S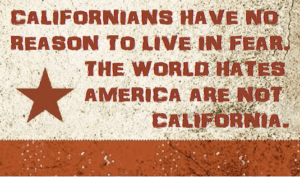 Our current military spending burden as part of the United States, has California Taxpayers on the hook for $60 to $120 billion dollars a year of America's average and out of control ¾'s of a trillion-dollar military budget. Any downside to the idea of this kind of California Independence spending cut?… No? And the best news of all… No more Californians dying in foreign lands halfway around the world, or killing people who are no threat to California, just for the sake of imperial power, political ideology, or corporate profit.
Does California Independence need any better argument than that?